Choosing an entrance door for your home is an important decision
Here at Athlone Windows we offer products
 that are designed to provide enhanced security, weather performance and energy efficiency as well as create a stunning gateway to your home.
There are a wide selection of styles and decorative finishes available.
All of our doors are individually manufactured and all come with a written guarantee.
https://www.compositedoors.ie/palladio-collection.html
Palladio Composite Doors – Strong, durable, triple glazed with
outstanding U-Values https://palladiodoorcollection.com/
"A" Rated for Energy Efficiency
Triple Glazed with Double Seal
High Security – 8 point locking system
Available in a variety of colours
A huge choice of Glass options
Inliten uPVC Panel Doors
Our PVC Doors offer excellent weather performance properties as standard.
The weather resistant uPVC outer skins and rain deflectors help protect your home during harsh weather conditions.
Our doors are constructed from compact styrofoam, layers of solid MDF and uPVC inner and outer skins our panels offer superb levels of strength and energy performance.
There is a wide range of panel colours and finishes available. Multi point locking systems are fitted as standard to all our doors ensuring only the highest level of safety and security for your home.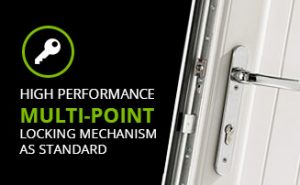 Transform your home with a new door today…
Design Your New Athlone Windows Door
https://designer.palladiodoorcollection.com/retailer/athlone-windows
Design new door today